Watching the vitality and mobility return to the animals we love is the best part of Dog Bowen Therapy.
Testimonial stories are always nice to have, but honestly I couldn't stop people from sharing their dog's success if I tried!
When their dog's quality of life returns from degenerative myelopathy ( see video page ), severe arthritis, knee injury or hip dysplasia they just need to share!
Veterinarian
suspects a ruptured disc.
C.J.'s story of recovery...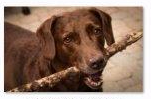 C.J. is a 12 year Chocolate Lab. C.J. was a rescue dog that came into my life about 4 years ago ---but in all honesty, she rescued me. CJ's compassion, good nature and protective spirit made her the perfect addition to my life. This summer, C.J. was doing one of her favourite things...chasing the black squirrel that was raiding our bird feeder, as she turned the corner into the backyard she let out a painful yelp. C.J. stopped in her tracks and slowly walked back to the house with her head hanging low. CJ was hurt. Badly.

When I adopted C.J., she had no fur, was malnourished and had lesions that wouldn't heal on her body...but she never looked as pained and dejected as she did in the hours that followed that yelp. Within 2 hours she became disoriented and confused---whimpering relentlessly..within 3 hours she was moving chaotically by pulling herself forward with just the use of her front legs...from her midback down she was lifeless and had no control of her bladder. I now know that C.J. had probably gone into shock. It was an awful night. When our vet opened the next morning at 730am my husband and I were there with C.J.
After about two months of rest and being carried outside to go to the bathroom, C.J. was able to stand and gingerly walk outside with some assistance---C.J. still needed support to squat and pee but she had physically improved and no longer was dragging her back legs. Fall was coming, and I knew I would not be able to always support C.J. to go outside in her current condition. A friend had told me about the work Debi was doing, helping dogs to walk independently again. After the first treatment, C.J. was walking without any assistance! But more importantly to me---I saw her spirit and personality starting to return. It was if she was coming back to life! We (I mean C.J.) has now had 3 treatments with Debi...all I can say is that she has been a miracle worker. After each treatment, C.J. sleeps and drinks lots of water and then is back to her good old self...with each treatment I have seen C.J. progress to the point where she now literally bounces when she walks and her tail swings high and back and forth. Once C.J. has completed her forth session my plan is to have CJ go back for a maintenance treatment every couple of months---C.J. has given so much to my life...I want her to be able to live her best self and Debi is giving that to her.

Tracey Poulin Dun

A HUGE THANK YOU to Debi Famelos & her knowledge of Bowen Therapy.
We cannot thank you enough for bringing our 7 year old German Shepherd Roxy back to her youth. Roxy is the most lovable dog we have ever had. She loves kids, other dogs & most of all her family.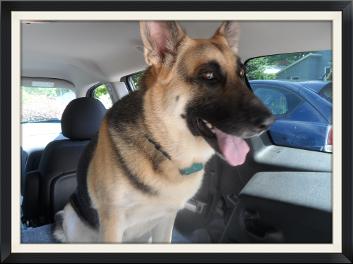 Roxy is a very active German Shepherd, & needs to work with us whenever we are outside. When I say work with us, it means, her leaving a ball in our path while cutting grass or leaving it by plants in the garden while weeding or planting, so we would have to throw it for her. We have 3 arces, therefor we spend a lot of time outside. In turn it means a lot of running for her.

As with most German Shepherds, they tend to have trouble with there hips.
Roxy started about a year ago with her hips troubling her. Even with her troubling hips, she would not stop. Winter came last year with so much snow, that it kept her from running so she seemed to be doing better.
Well the nice weather came this past spring, & it was impossible to keep her confined.We put all her toys away, to discourage her feeling the need to play. But she insists on keeping the neighbors cats off our yard & runs like crazy after them. She does not want to be locked up in the house while we are outside & she has never been tied up, or put in a pen. This ended up putting her back in pain. Her hips were clicking with every step she took.

We took her to the vet, where we were told she could have surgery. At over $2000 with no guarantee & 90 percent chance she would have to have her other hip done. Again we would have to keep her relaxed for weeks. Almost impossible, & she would have been crazy not being outside with us.
By June her hips were so bad, they were clicking with every step she took. You could see by her face that she was in pain. Even her coat was really shabby looking. It was horribly heart breaking to she her like this. We didn't think she could handle the surgery, & we had talked about putting her down. We could not let her suffer.

We found out about Debi Famelos & Bowen Therapy. We thought we have to give this a try.

Roxy had her first Bowen treatment with Debi on Monday June 29th, & within 2 days her hips stopped clicking, & you could see a difference in her. By treatment 3, she was looking & behaving more like our beautiful Roxy again. Her coat started to look so much better. Debi also said to watch for things she used to do.
Sure enough Roxy started to do things we hadn't even realized she wasn't doing, or we just thought she was getting older.
We love our Roxy as if she was one of our children. Maybe she is a little more spoiled.
To date Roxy has had 5 Bowen treatments, & is behaving & looking like she is 2 again.
We are truly amazed & so grateful for having met Debi. We will definitely have a few more years to spoil our girl... (who thinks she is coming to see Debi every time the car keys are touched.)
Thank You from the bottom of ours hearts
Roxy, Sue & Henry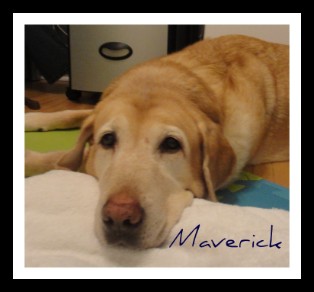 Maverick's Story
Maverick is our 12 year old yellow lab.
A big goofy, loveable boy.
(Arthritis, shoulder injury)
Approximately two years ago Maverick became quite lame due to arthritis and a shoulder injury. Finding something to improve his comfort level and mobility became our challenge. We ran the gamut of possible remedies – vet prescribed medications, a multitude of different kinds and brands of joint supplements, chiropractic, you name it, we tried it. Despite it all, the lameness remained and walks were eventually reduced to three houses away, with Maverick sometimes having to lay down along the way to ease his discomfort.
Then we learned of Deb Famelos and her success with a pug from the Welland & District Humane Society suffering from back end paralysis.
From the first moment, Maverick thoroughly enjoyed his sessions with Deb; his tail rarely stops wagging when receiving therapy under her gentle hands.
After three sessions we were cautiously thrilled to see improvement! With further sessions, this improvement continued to increase and we are so impressed and grateful for the progress in Mav's mobility and comfort level.
He is now enjoying significantly longer walks and much to his delight, he is able to again jump up on the couch! We are no longer 'cautiously' thrilled…. we are incredibly thrilled that Maverick has been given back a level of comfort which will serve him well in his senior years.
Future sessions are on Maverick's calendar – both to maintain his mobility and also because he thinks these outings are the best ever!!
Thank you, Deb!
Shirley and Norm Cohen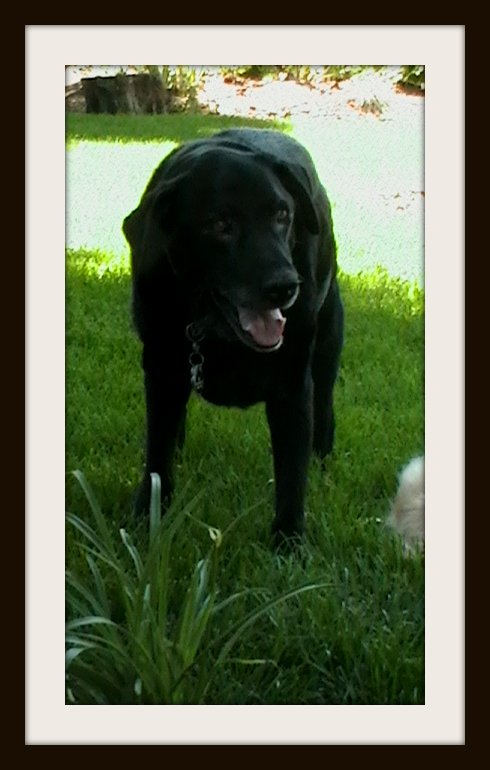 Sudden onset of inner ear inflammation causing severe dizziness and inability to move
Kobe was also very arthritic...the change was unremarkable!
Hi Debi
Sending you this email from the cottage.I swear Debi, never, has he been this good. He went up and down those stairs so many times each day. He slowed down a little by the end of the day, but never seemed to stiffen up. He perked up when ever I mentioned Dr. Debi LOL He was chasing balls, and even swimming. And Shaye checked the records again, and I was right. He turned 14 yrs last Feb. I never would have thought 2 months ago he could make a come back like this! AMAZING! - John and Karen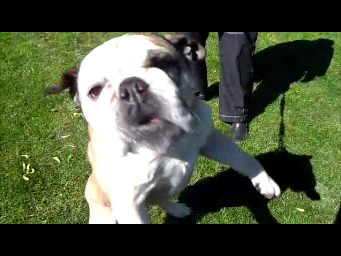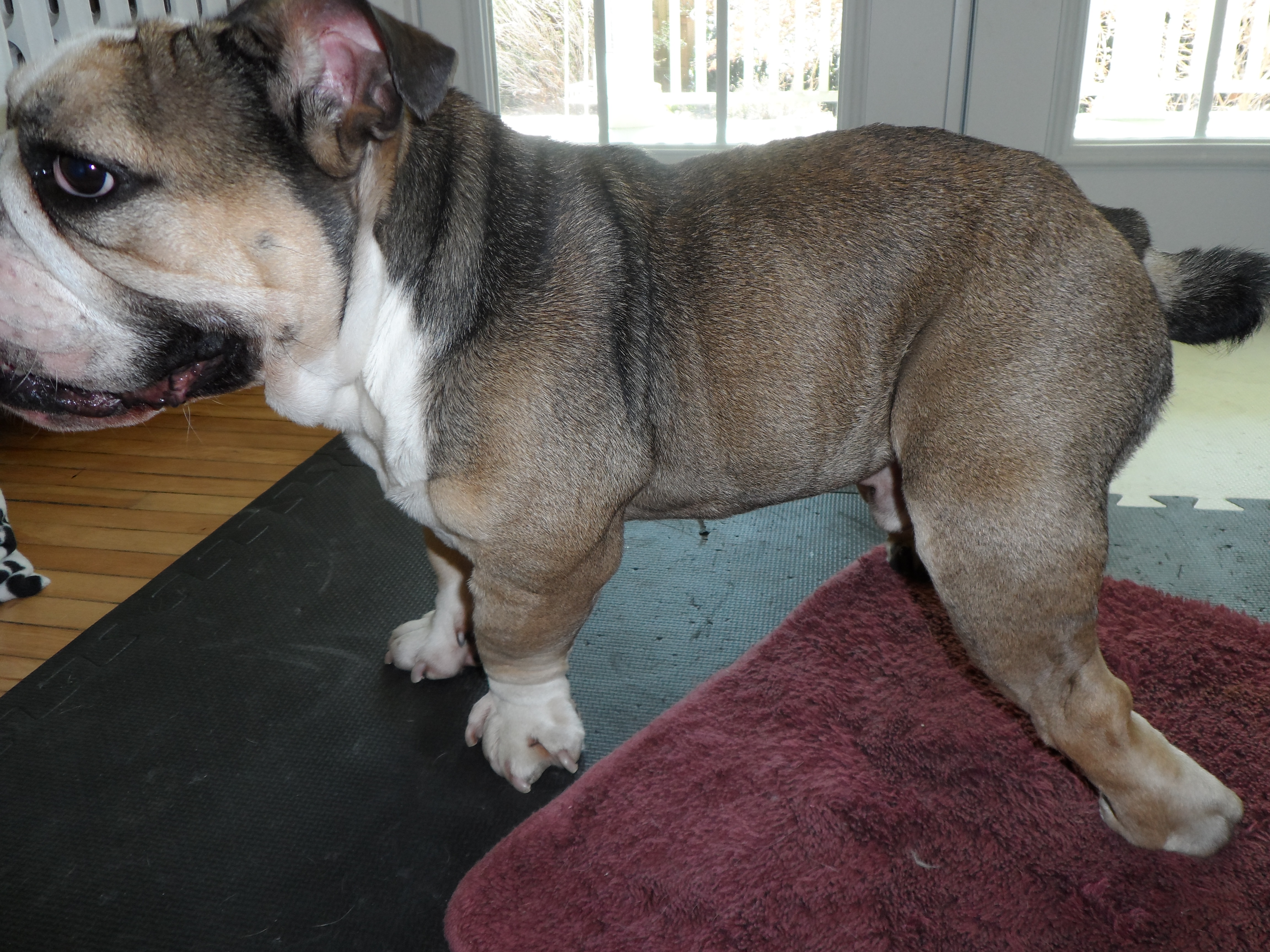 Gordie and Chester's story --
I have 2 English Bulldogs, both 3½ yrs old. Bowen has made a huge difference in both their lives, in different and very unexpected ways.
Chester aka Chester the Molester is an energetic boy prone to bouts of hyperactivity. A few months ago he began limping due to a luxating patella (floating kneecap). In the following weeks I took him for chiropractic and laser treatments, and tried acupressure, massage and muscle strengthening exercises at home. There was some temporary relief, but the limping persisted and his leg was losing muscle tone. Then I heard about Debi and Animal Bowen. After 3 sessions Chester is no longer limping and his leg muscle mass and strength are very much improved. What came as a complete surprise to me was that he has calmed down. Oh yes, he still gets hyper, but not as intensely and he settles quicker. One day as he sat quietly, I realized there was just something different about him….he had such a look of quiet contentment on his face that I had never seen before. I cannot believe the change in him. He's no longer my resident maniac.
I had visited a breeder I knew and picked Chester out of a litter of several puppies when he was 3 weeks old. In a twist of fate, that was the day that I saw a rather small 14 wk old 'special needs' puppy that I was immediately drawn to. I adopted him and took him home with me. I named him Gordie.
Gordie's challenges began the moment he was born, the last puppy in a litter of 7. He was very small and wasn't breathing. He was bottle fed because he was unable to nurse. When his littermates began crawling and moving around, Gordie's legs couldn't support his weight. In time he gained enough strength that he was able to scurry around on his own. He had to move fast to get enough momentum to go a few feet before he would lose traction and fall down. The ceramic flooring was not ideal for him, but he never stopped trying. He didn't learn how to play with his littermates due to his size and lack of strength.
My house was ideal for Gordie, small, no stairs and lots of carpet runners everywhere for my senior arthritic German Shepherd. Gordie developed the most endearing drunken stagger as his legs got stronger. He wasn't incontinent as I had originally thought. He continued to get stronger and more active. An MRI revealed that he has hip dysplasia. Several of his vertebrae are malformed. The worst of which are at the base of his skull, causing a narrowing of his spinal canal and the possible build up of cerebral-spinal fluid. His back legs are twisted causing his feet to rotate inward.
I started Gordie on a raw diet at 1 yr of age and within a few weeks his strength and stamina improved. We do our own version of at-home rehab. Gordie walks, runs and enjoys life with such joy. He doesn't know there is anything wrong with him.
My hope was that Animal Bowen could give Gordie better mobility and ease of movement. The changes in Gordie are nothing short of amazing to me. He stands taller with straighter back legs, increased activity and energy, increased coordination and improved balance, steadier and lighter gait, sits more frequently instead of standing, back legs are not as twisted, he has walked on laminate flooring without falling (impossible before Bowen).
Gordie has become much more connected with his surroundings, more inquisitive and less intimidated by objects and situations he isn't familiar with. There are so many things that dogs do on a daily basis that we take for granted, but Gordie was never one of those dogs. Gordie didn't have a normal puppyhood and didn't have the opportunities to learn by example from his siblings and mother. He has always been very solitary, preferring to stay in his cage where he feels safe even though the cage door is kept open. Now he spends time out of his cage. He will walk across the living room to pick up a nylabone and carry it back to his cage and spend time chewing on it. A pretty normal activity for most dogs, but a huge accomplishment for Gordie. Until a month ago, he would not drink from a water dish. That is a huge step for him.
All this in just 5 sessions! Bowen Therapy will continue to be a part of my dog's lives and I look forward to their continued progress and accomplishments.
I cannot put into words my gratitude to Debi and Bowen Therapy. Debi's passion and humility are inspiring. She has helped open a new chapter in each of my dog's lives. I always knew there was a calmer Chester lurking somewhere deep inside him and Bowen brought it to the surface. Gordie, who I thought would be forever limited in his abilities due to his health issues has blossomed and has a newfound vitality.
Lorna
This comment gave me a big giggle...
Thanks for the sessions for Ally – we have all noticed a positive change in her behaviour.
She does act like a puppy for longer durations, last night we had quite an extended period of play with her always favourite toy, a sock.
My sister is here for a visit and said that Ally even looks different, she sees a more relaxed look on her face
- she said if Ally were human she would think she had a face lift
(based on that I think I should get some Bowen therapy J)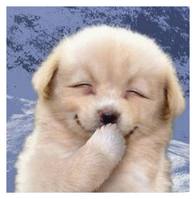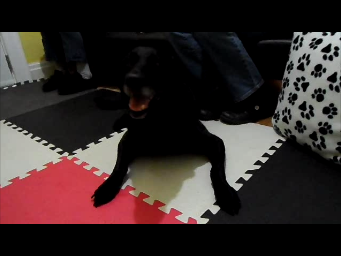 Meet Macey
She made her way to the Canine Mobility Clinic with the love and support of Joanne her "Mom".
Joanne receives regular Bowen sessions for herself and when she asked if there was such a thing as Bowen for Dogs....she was led here.
The first time I met Macey she was needing the support of two people to get her in the door.
Now...she bounds through the door on her own, tail wagging, smile on her face.
Gentle yet powerful... is why Bowen works!
Macey is a black lab who is about 11 ~ 12 years old. She has high energy and would play fetch with you for at least 20 mins a day. We would do this when I came home from work daily. Macey also enjoys her walks or as we call it her "thing" so she doesn't get too excited and keep bugging you to go. Macey would do go for walks for about 40 - 60 minutes a day. She also enjoyed playing with her little sister (the cat CJ) and would chase her so she got really hyper. Then in late September 2012 she fell down the stairs and couldn't get up.
Macey wasn't able to get up on her own without help. We had to assist her with this task and when she went to the washroom also. She would continue to fall when going to the bathroom so someone had to be with her all the time to help. I then had my brother come down and make a ramp over the stairs outside to make things a little easier. At this point Macey lost her energy, looked depressed and needed help to get up. I was a wreck and thought I was going to loose her. Then the vet visits started to happen every week. Macey started off with shots weekly and was put on sasha's blend to help with arthritis and her hips. She did have arthritis before this but it was easier to manage. The vets recommended phsyio for dogs or massage therapy to help her. Then a funny thing happened.
I was at my physio because I pulled my back out helping her getting up. I was doing my Bowen treatment and asked my physio if she could work on my dog to make her feel better like I do after one session. I said this with no clue that you can do Bowen for dogs. This is how I got in contact with Debi. She was known to one of my physio's because she is also a dog lover and thought Debi could help Macey. After the first session with Debi, Macey started to show signs of better energy even though she was still struggling to get up. I had to have someone come with me to get Macey in and out of the car, help with stairs and support her.
The second session was even better for Macey. She had more energy and now wants to get up on her own.
Macey kept going weekly for four weeks and showed signs of improvement. Macey was continuing to improve with walking, getting up, more energy and just being the dog she was before. As I kept taking her to the vets they were complimenting on how well she was walking and getting up and responding. Her hips seem more in line with her body and she doesn't crack as much when she gets up. Macey was letting her Bowen treatments go longer and longer instead of weekly. We now goes once a month to six weeks. Macey was on meticam daily which is an arthritis medicine and now takes it twice a week if that. She can get up and down no problem by herself. I catch her running outside and she can go up three to four stairs. Our new development is we have started to go for a walk again with little bits at a time. She puts her paws up on the seat of the car and tries to get in by herself but still needs assistance with only one person. She also plays with the cat.
I can't thank Debi enough for this treatment and would recommend this for any dog
Joanne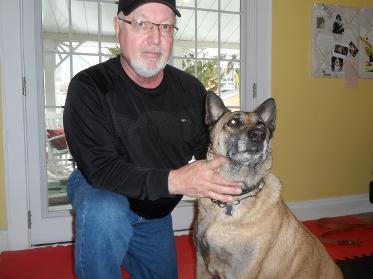 Dear Debi Famelos
We are writing with regard to the Bowen treatment that you have been administering to our 10 year Belgian Malinois (Maddie) since last November. We are happy to say that we are so pleased with the positive results to date.
Before coming to see you, Maddie had been under Veterinarian care for over one year and was also taking anti inflammatory medication to relieve her lameness and help control her pain with limited results. Since last December we have taken her off all of her medication, she does not limp and is completely pain free. She also demonstrates a new enthusiasm for life; she runs and jumps as if she is a young dog and is back to her old self and interacting with the family. We are so appreciative to have discovered Bowen treatment which has restored Maddie's quality of life and has also positively impacted our entire family.
Thank you for Bowen therapy and for giving us back our Maddie.
Garry and Mary-Ann Cartwright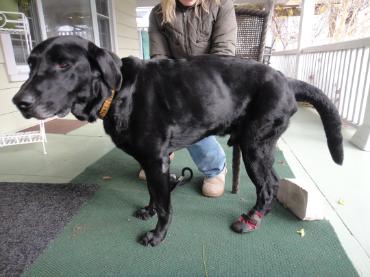 Dear Debi,
I cannot document Whiley's story without recognizing how important your involvement in Whiley's recovery is and has been to us. Not only for his spirits and recognizable increases in his mobility, but for peace of mind for myself; personal therapy if you will. Finally someone is willing to help me do what I can to heal my favorite friend. To witness small but critical improvements in his mobility and share them with someone who genuinely cares is indescribable. There is something truly special in your ability to heal and I thank you for sharing.
Whiley Carver ~ 6 year old Black Lab

Whiley lives to swim, play ball and hang out with us as his breed is known for. He is able to run 50kms/hr. He is an admired and loved member of our family. It is note worthy to say during the next 8 months, Whiley always remained optimistic and his spirits virtually unaffected by the sequence of events to follow (aside from the first few weeks of extreme confusion).

Day 1
Neighbors' stop me as I'm driving home to tell me something was off with Whiley today and they were worried. They were playing their normal game of throwing the ball into the pond for Whiley to retrieve when he had some trouble getting out of the water. When he finally got out, he didn't shake off and just lied down. Our neighbors have been playing with Whiley for over 5 years and their observations were alarming. Whiley was still at their house but ran home across the street effortlessly. We didn't know what to think.

Day 2
Whiley is out playing in the yard near the pond when his body starts to fall in abnormally. Rob pulls Whiley to shore and realizes he cannot move. Any attempt to stand fails him – his back legs are completely paralyzed. Whiley has lost all control of his bladder/bowels. His tail will not wag.

We take him immediately to an emergency veterinary clinic. Whiley is sedated, x-rayed and given a shot of steroids. We are told based on the x-rays he has cancer/mass in his spine. Since he has no deep pain perception in his back paws, it is not believed he will be able to walk again. We should consider euthanizing him. We take Whiley home.
Dana sees the life in Whileys eyes ~euthanization is NOT an option
Day 3
Take Whiley to our normal vet who reviews the x-rays and tells us cancer/masses cannot be seen in a regular x-ray. What is seen in the x-ray is arthritis which is common in black labs his age. He tells us he does not have any answers relating to what happened or what will happen next. He has seen this a few times, but in each case the owners decided to euthanize their friends due to the ambiguity of the situation and the high expense involved in taking their pet to a specialist.
Once again Dana is told to euthanize ~ fear and unsureness set in ~ yet her LOVE led the way
We are told we can take him to Orchard Park in Buffalo NY who have specialists who may be able to diagnose his condition. We get a referral and start giving him prescribed steroids.
Day 4
Take Whiley to a local dog chiropractor with the hopes they have some information our vet didn't. They were weary treating Whiley since the cause of his immobility is unknown.
Day 5
Take Whiley to Orchard Park Animal Hospital. Whiley is now excreting blood from his anus and urine. There has been no change in his deep pain perception in his back paws. Neurologists inform us Whiley has had a stroke in his spine called FCE - firocartilanginous embolism. They believe a piece of Whiley's disc in his mid spine broke off and interrupted his spinal cord function but an MRI would be necessary to be exact. The specialist believes there is a 50/50 chance he will regain function within two weeks, whatever improvements are made will be his permanent state. We take Whiley home.

Dana is faced with grave news ~ yet she sees Whileys determination to live

Over the next week
I stayed home with Whiley and took a temporary leave from work. He has no deep pain perception in his back paws. He does not regain function of his bladder or bowels. Time felt like it was running out quickly. I researched different rehabilitation clinics in our area and decide to take Whiley to the Animal Rehabilitation Centre of Rochester.
Her name is Dana, and her dog's name is Whiley
Dana's determination truly exemplifies the power of LOVE.
This story stands as a true testament
of living from the heart.
Which in my experience
always brings
peace joy and a willingness to give.
Bring Whiley to the Animal Rehabilitation Centre – checked in for 8 days. Here Whiley undergoes underwater treadmill therapy, neuro-therapy, soft tissue massage, and rehabilitative boarding.
8 Days Later
Go to pick up Whiley. When we arrive, he is standing up! He is able to take 2 steps before falling. We are shown how to catheterize him and are told to do it every 12 hours.
Whiley has hot spots caused by the urine burning his skin. He has chewed a hole in his tail which has to be monitored and cleaned daily.

Hope is found and Dana is reassured that her decisions based on hours of research and endless LOVE is paying off.
Over the summer
We take Whiley swimming 2 times a day for ½ hour in the river (he starts with a lifejacket and we hesitantly remove it after a few months).
His back legs begin to slowly move underwater.
His spirits increase tremendously back in an environment he loves.

Extreme muscle atrophy unfortunately has already set in and Whiley weighs only 60 pounds.
Whiley has first Naturopathic appointment. We decide to switch his diet to raw food only. A result is less urine and small, hard feces (which is much easier to handle since he still has no control over his bowels/bladder). We start naturopathic remedies to enhance Whiley's immune system.
Whiley gets a skin rash and all his fur falls out in patches. He has had urinary tract infections on and off for the past few months. He appears to be rotting from the inside out.
Home is where the heart is...and Whileys spirits shine dispite his physical struggles
4 months after stroke
Whiley begins Bowen therapy with Debi. A week later, his fur has a significant shine that has not been seen since he was a puppy. His legs tremor while laying down and after running. Whiley can pick up his right paw off the ground but continues to drag his left paw. His legs are stiff and do not bend at the knee. When he lies down, the bottom half of his legs fall stiffly to the floor. He still has little reaction to the touching of the bottom of his paws. Catheterization is still necessary 2x per day.
Further Bowen Sessions:
Whiley whimpers while in Bowen therapy - we take him for a quick walk and he pees on a bush for the first time. This is a wonderful victorious moment

Whileys legs respond to me scratching behind his ears - his nerves must be communicating better

Whiley can turn quickly while running without falling down – either way.
Whiley begins to respond to hard surfaces under his feet by bending his legs. He begins to react to tickling his right paw by quickly jerking his paw away. We continue with Bowen Therapy weekly.

Missed three weeks of Bowen Therapy and 4 different people commented on separate occasions that Whiley appeared to be regressing. We started going back weekly and he bounced back.
Note:Whiley did receive several more Bowen sessions ~ he continues to do well and now has two new dog members in his family ~ Thank you Dana for the honour of being a part of Whileys recovery.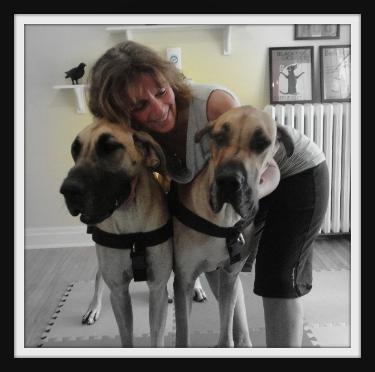 What I do, I do with pure passion.
To be acknowledged as to making a difference in the well being of Oliver's life has reminded me that what I offer here at the Canine Mobility Clinic truly does take health care for animals in a new and much needed direction.
Debi Famelos

Oliver
2 years old
Right knee injury
Surgery recommended immediately
Oliver (on the left) is a 150-pound male Great Dane, who at 12 months, came up lame on his right knee after a day at the dog park.
We consulted our vet who ultimately referred us to an orthopaedic specialist. The specialist spent 5 minutes with Oliver, did some x-rays, and stated she wasn't sure what the condition was but stated that he needed immediate bilateral knee surgery. I felt uneasy, however, about rushing into an operation without a definitive diagnosis and decided to gain a second opinion.
This took us to the Veterinary College in Guelph. While there, the team of specialists that looked at Oliver were unable to determine an exact diagnosis, but stated that he most likely had bilateral partial cruciate tears. Much like the other Doctors, immediate surgery (a TPLO) was the recommendation.
I spent the next 24 hours, reading every ounce of information on the TPLO procedure and others experiences. I was mortified with its invasiveness (cutting his tibia in half, rotating the bone, plate and screwing it) and did not want to run the risk of arthritis and osteocarinmoa (cancer) that typically accompanies the surgery.
Making matters worse, were the continual influx of stories about people losing their dogs to surgical complications and how they NEVER regained full functional use of the leg. To make matters worse, the procedure is extremely painful and rehabilitation is just as taxing.
I called the specialist and told her that I would not be doing the surgery. I spent the next several weeks researching alternatives and conservative management while Oliver remained on house arrest, with included short leash walks. Over time, we introduced him to an underwater treadmill and ultrasound treatments. Unfortunately, these seemed to aggravate his injuries… So we discontinued the treatment.
There were signs of improvement over time, however, any gains that we made were quickly brushed away with our over-confidence in his recovery. After a final trip to the Specialist at the Veterinary College, we decided that if we were ever going to help him get better, we needed to limit every aspect of his life……Then we met Debi ~ I found her web page and immediately contacted her about an appointment. She called me that night and spoke to me for an hour about Oliver and our situation. We then booked our first appointment.
After seeing Debi for nearly 3 months I can say OLIVER is 10 times the puppy that he was prior to his treatments. He is able to place full weight on his right leg and no longer hops down the stairs on three legs. There are no more stutter steps when he takes his first steps after sitting, no more limping after a walk and no more lameness, lying in bed, because he hurts too much to move.
He has the energy of a one year old and, more times than enough, runs around the property like a mad man looking for things to chase and kill. His sister, Addison, antagonizes him along the way, but, although she gets the best of him, he can keep up without the worry of pain.
There are absolutely no words that can describe the important role that Debi plays in our lives. She is always willing to listen to our concerns and has a calm way that makes our greatest concerns disappear. We are blessed to have her and appreciate all the wonderful things that she has, and will continue, to do. She really has given Oliver back to us.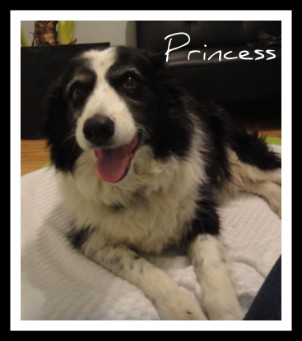 Princess
10 yr. old Border Collie
Back end stiffness
Loss of energy
Princess is a 10 year old Border Collie who experienced mobility issues in her back legs. She would often slip and require assistance to get back up on all fours, had difficulties and required assistance to get in and out of the vehicle. More and more we are helping her from behind in moving up the stairs...as she gets "stuck" midpoint.
We noticed a significant drop in energy over the last 2 years.
First visit: Princess was nervous, panting heavily, nudging me to
get moving. Debi was so patient and kind with her.
After the first visit: Princess was exhausted, came home and
right to bed!! We noticed an improvement in energy as the day's followed.
By the third visit: No panting, Princess is completely relaxed and feels that this is her home.
She enjoys her visit.
There is a definite improvement in energy. Much more interest
in what is going on around her. Debi has put the puppy back in a 10 year old.
Independently moves in and out of the vehicle unassisted.
Climbs stairs with a bounce in her step.
Princess and I are looking forward to our 4th visit next week!
Pat
Bandi's Story
8 year bichon-poodle, in sudden hind end pain.
I came home from work to find my 8 year bichon-poodle, Bandi, in apparent pain. She was having trouble going up and down the stairs and was not able to jump up on her blanket on the couch.
Her eyes were dull and she had lost her joy. She must have had an un-witnessed injury of some kind.
A weeks rest had not improved the situation much.
We brought Bandi to Debi at Animal Vitality Plus.
After the first treatment Bandi seemed almost herself again.
By the third treatment Bandi was actually acting like a younger dog, more active than before she became ill.
We are thrilled.
Brian and Wendy Funk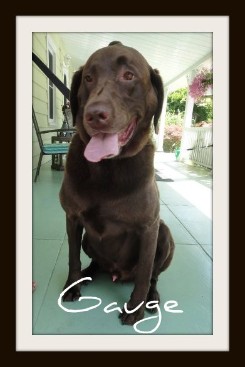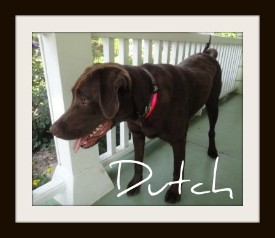 Gauge -muscle spasms, hip dysplasia in both hips, roached back
Dutch - nervous, leaky bladder
Hi Debi
I just wanted to say thank you for the Bowen Therapy treatments that you gave to our chocolate labs, 1 year old Dutch and 5 year old Gauge. We have had some success with homeopathic and chiropractic care but it was limited and Gauge had developed muscle spasms on his right side and the occasional limp due to the level 3 hip dysplasia in both hips . I was contemplating massage therapy but I did not have the time to continue it on my own. I was looking for something that would work right away.

During the first treatment I noticed a shift in Gauge and he seemed more relaxed. I didn't know that his muscles were so tight all over. So, later on that day, I noticed that his muscle spasm was gone. Then, after a few more treatments with Gauge I saw the hair curls on his withers begin to straighten out, and as you later told me that meant his muscles were starting to relax. So, with Gauge the muscle spasm went away and his limp is gone. Of course, this makes for a much happier dog:)

With Dutch, his issue was being very jumpy, nervous and not able to hold his pee. After the first couple of treatments, the first thing I noticed was that he hadn't peed inside the house for a couple of days! Wow, that was a huge improvement. He also was more relaxed and not so jumpy. At the end of the treatments I noticed that his hair was starting to grow over the bald spot on his elbows. He's only a year old and I thought it strange for him to have bald spots on his leg joints. He definitely enjoyed the treatments!

I'm so happy with the improvements I see in both dogs, I think I need a bumper sticker that says "Hooked on Bowen".

Thank you very much!!
June
p.s. I forgot to add to regards to how happy I am that Gauge's paws don't splay out anymore, meaning that he is balancing his weight more, and that the hump on his back is almost gone.
Oh and the big one, is that he doesn't scratch himself anymore. He used to scratch a lot and I tried all different supplements including probiotics, different oils, etc. and nothing has worked until we did the Bowen Therapy and now he only scratches once in awhile (normal for a dog)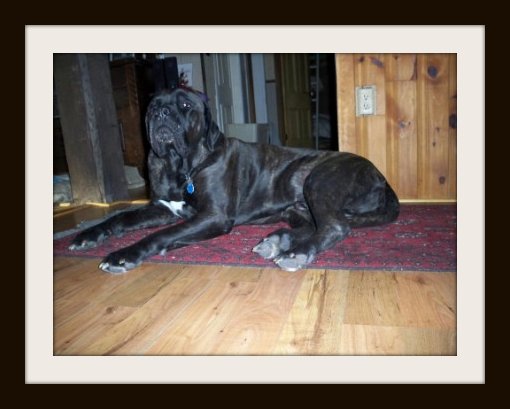 Khan
Double cruciate ligament surgery
Hi Debi....Khan is doing great this morning...and Markie's (horse) swelling was reduced as well...Thank you so much for your help with them both...I can't pretend to understand how your therapy works...but you have made a believer out of me!
I aquired my English Mastiff, Khan , 3 1/2 years old at the time, from the NFHS(Niagara Falls Humane Society) in the fall of 2009. He had undergone double cruciate ligament surgery 3 months prior, and was still very limited in his movement. At the time of his arrival at my farm, he was only able to walk for a maximum of 10 minutes without having to rest. Any excessive exercise resulted in him being unable to use his right hind leg at all, consequently, the upper leg muscles were becoming somewhat atrophied and there appeared to be an enlargement of the stifle joint as well. When he was able to bear weight on his right hind, he did so with a distinct limp. Continued light exercise resulted in some improvement in the use of Khan's right hind leg and limited improvement in muscle tone, although his gait was still unequal and the joint inflamed. Around Christmas of 2010, Khan developed a large egg size lump under the surgical incision on his right hind stifle. It was warm and painful to touch. He became increasingly uncomfortable to the point he was barely able to lift himself up. Topical dmso applications and oral ASA 500mg were administered every 4 hrs for 3 days to alleviate the pain and allow some mobility. Although his level of discomfort decreased to the point he was able to get up and down and move about somewhat, the lump on his leg did not recede.

Debi first saw Khan on Feb.1 2011. Following Khan's initial Bowen therapy treatment, Khan was quiet but comfortable...He showed gradual improvement in his comfort and energy level in the days that followed. There appeared to be a small reduction in the size of the lump over his right stifle. Debi treated Khan again on the 8th of Feb, and the improvement became more rapidly apparent. The size and density of the stifle lump was obviously diminishing and he was bearing almost full weight on his right hind leg. His gait was becoming more equal and his energy level and enthusiasm for exercise noticeably increased. By the time Debi arrived on the 15th of Feb. for Khan's 3rd Bowen treatment, the lump had completely disappeared and Khan was actually able to "lope" for 100 metres or more at at a time, something he had never been able to do for more than a few strides. What appeared to be arthritic inflammation of the right stifle joint has completely reduced along with the lump, and Khan's muscle tone has improved to the point he is bearing weight and using his right hind almost equally to the left. No medications, treatments or therapies, and no lifestyle, exercise or diet changes were implemented during the course of his Bowen therapy treatments. As a result, I can confidently attest to the fact that the Bowen therapy applied by Debi, was instrumental in the dramatic improvement of Khan's well being. He continues to be pain free, energetic and playful with a full range of motion on his right hind leg.
Thank you Debi, for the quality of life you have returned to my best friend! Your kindness and compassion will ever be appreciated by myself and Khan...continued success with your therapy...it's amazing!
With much sincerity and gratitude,
Wendy Wolff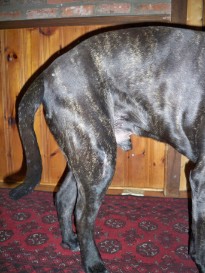 Before and After two sessions
I AM BEYOND ECSTATIC WITH KHANS PROGRESS.
A YEAR AND A HALF OF BEING STUCK IN AN OLD INJURY IS NOW BECOMING UNSTUCK IN JUST TWO SESSIONS.
WITNESSING KHANS EASE OF MOBILITY AFTER JUST TWO SESSIONS HAS ME JUMPING OUT OF MY SKIN WITH EXCITEMENT. I KNOW WITH CONFIDENCE THAT THE POSSIBILITY FOR RETURNED MOBILITY, VITALITY AND HEALTH ARE ENDLESS FOR ALL THE ANIMALS THAT I WILL HAVE THE PRIVILEGE OF TEAMING UP WITH IN THE FUTURE.
I'M IN TOTAL AWE THAT I HAVE FOUND A MODALITY THAT CONNECTS SO BEAUTIFULLY WITH MY PASSION FOR ANIMALS.

DEBI FAMELOS - DOG BOWEN PHYSIOTHERAPY NIAGARA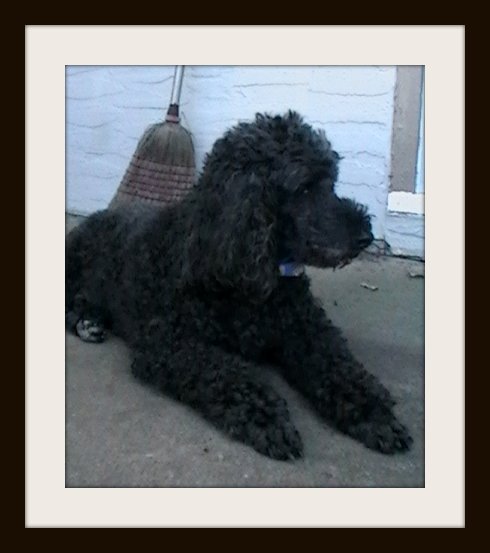 Bart
Long standing(5years)
neurological condition
effecting left hind leg.
Large grapefruit size mass at sacrum
Hi Deb,
I remember the day last summer when you saw my dog, Bart, on his walk (limping badly along) and you offered to help him with Bowen.
I was very hopeful, as this neurological problem with his hind end had been getting progressively worse, starting when he was 8 years old. He is now 13.
You can never know how grateful Todd and I are for providing Bart with this incredible and gentle treatment, literally saving his life. Our vet had no answers after an x-ray, and said they have never seen anything quite like it before.
Bart is now happier, more active, and loves his walks and his life again!
I recommend you to everyone I know that has an animal needing help.
We look forward to many more quality years for Bart. Again, thanks.
Marilyn and Todd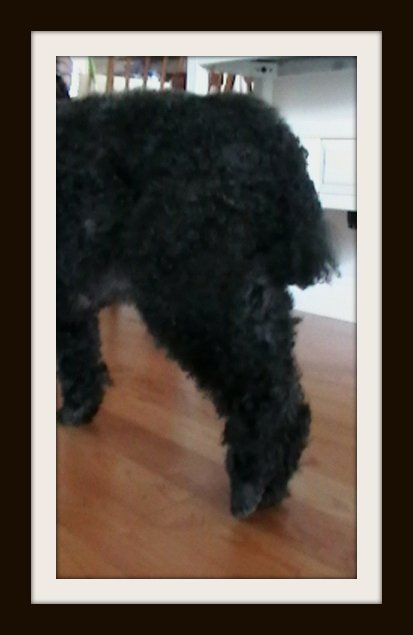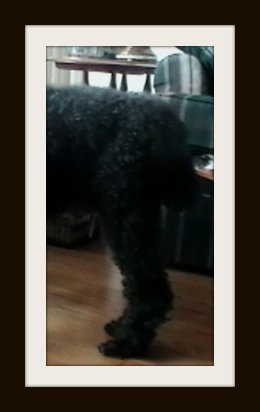 Before- large solid mass at sacrum and left hind leg lifted
After- mass has softened and greatly reduced in size, leg now down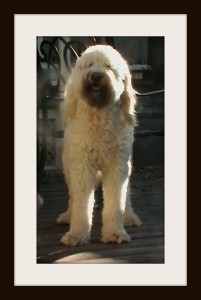 Hanne
Sudden full body soreness
Energy and mobility greatly effected
Hi Debi,
Just wanted to update you on how well Ms Hanne is doing, thanks.
She doesn't seem to be having any pain.
I've started throwing the ball and her body seems Ok with the running and charging.
She seems like a much happier puppy.
Interestingly enough, she's very cuddly lately -- always up close wanting to be touched and patted.
That's so cool.
Thanks soooo much from both of us. - Anne