Through word of mouth and eager Google searching, Dog Bowen Therapy has earned it's way as a Leader in Neurological Restoration here in the Niagara Region.
The toughest cases of Degenerative Myelopathy have seen incredible results here. (See sidebar)
...And hip dysplasia, back end weakness, spinal cord injuries and paralysis are the normal success stories.
Welcome to Dog Bowen Therapy, a direct neurological approach that attracts the "tough cases".
The #1 Benefit of Neurological Restoration for your dog and why pills don't fix the problem...
You've suffered from an injury and sought therapy outside the Physicians office,right?
Your dog benefits from therapy in the exact same way! (and by the way, not all therapies have the capability of actually making a change)
Relief, perhaps...but you're not here seeking relief for your dog, you're seeking change!
Change is what happens here!
Let's dive straight into the #1 Benefit of Neurological Restoration so that your dog can get back into living the good life!
But first you might be thinking, "What the heck is Neurological Restoration?"
Allow me to clarify in three simply bullet points:
Neurological means your dog is being treated from the nervous system out! Using this science based way of connecting with the central nervous system your dog not only improves, but improves quickly.
Approaching all mobility issues via a direct communication with the central nervous system allows the brain and the nervous system to reconnect and allow the pathways to reset and return to proper function.
Here's the best part, this is a gentle and non-invasive therapy. I promise you, you're dog will be snoring by the end of the session.
As you explore the stories and videos on this site you'll discover a common thread...Recovery, restored mobility and quality of life returned!
As mentioned above, not all therapies have the capability of actually changing your dogs current mobility deficits. Many provide relief, but that's not what our aim is here!
With over a decade of experience and a whole lot of results, you'll be bragging to your friends how you discovered Dog Bowen Therapy - Neurological Restoration.
Why pills don't fix the problem!
We have to be honest here when we speak about our animals standard health care.
I'm sure you'll nod your head in agreence when I say, "Our Veterinarians don't have all the answers."
Veterinarians far too often treat the pain of the neurological condition with pills but don't address the cause!
We see animals given non-steroidal anti-inflammatory medications (NSAIDs), or placed on doses of other pain medications in combinations and dosages that are inadequate to achieve any form of change.
Don't misunderstand, I love Veterinarians, yet sadly their training is limited to medications and surgeries. Seeking to control pain rather than resolving the neurological reasons for the pain just doesn't work.
Here at Dog Bowen Therapy a decade of highly proven results stems from exactly that...CHANGE!
Spinal cord injury resolved ~ Judy and Dexter share their story..
What does Dog Bowen Therapy mean exactly?
Lets answer your question by breaking down the term Dog Bowen Therapy.
Dog - Dogs are my thing! This if my field of expertise. (although I have been known to work with cats, horses, reptiles and even an injured chicken!)
Bowen - Bowen is a technique. Created by a brilliant body worker by the name of Tom Bowen. Tom Bowen designed this therapy to work directly with the central nervous system, using a series of light (very light) "rolling moves" over muscle and connective tissue.
Let me add that Bowen affects every cell and every system in the body. This is no ordinary therapy!
Therapy - A therapy which helps to restore movement and function to the body.
Unlike typical physiotherapy, Dog Bowen Therapy uses a much more passive, non-manipulative approach (no balancing on balls, no weaving in and out of poles, no joint manipulation) to create a positive change.
This is an optimal therapy for senior dogs and for all dogs dealing with either an acute or chronic mobility issue.
A life saved. Nellie was facing yet another knee surgery. Listen to her story and hear the results of Dog Bowen Therapy.
" Dog Bowen Therapy has changed my entire thinking on animal healthcare. This is exactly what I was looking for! I will never be able to express the depth of gratitude for you and this incredible therapy. It saved Abby's life (and ours)! She is once again living the good life thanks to you." ~ Chris
Dog Bowen Therapy provides a decade of highly proven results with the following conditions:
Arthritis




Degenerative Myelopathy

Hip Dysplasia
Elbow Dysplasia
Knee (CCL) Injury
Post Surgery recovery
Digestive disorders
Spinal injury
Spine Misalignment
Spondylosis
Roached Back
IVDD

Joint stiffness



Shoulder injury
Stroke Recovery
Foot Knuckling
Muscle Spasms
Wobblers
Paralysis
Laryngeal Paralysis
Acute and long standing mobility recovery
Increase of overall energy
Our In-depth
Case Study
for dogs with
Degenerative Myelopathy
showed incredible results!
Please watch and share the below two videos.
Debi Famelos is the Founder of the

If you would like to become an Animal Bowen Therapy Practitioner please visit the Canine Bowen Institute today!
Offering complimentary
Laser Therapy
with each Dog Bowen Therapy Session.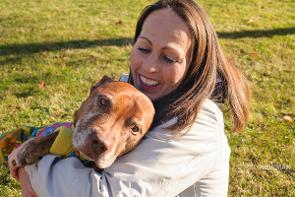 My 12 year old American Staffordshire Terrier was diagnosed with Degenerative Myelopathy (similar to ALS in humans). there is no cure for it and all you can do is manage the paralysis until it's time for them to go.

After the third session I noticed he was regaining muscle in his hind legs and he wasn't quite as wobbly anymore!
He was no longer falling over when he peed and he's even back to running and playing!
Thank you Debi for everything you do for Bennie.
~ Wanda McDougall
Hi Debi,
Just letting you know Tucker is doing a lot better.He spent an hour outside this morning and hasn't needed a muscle relaxant.No panting and he is now sleeping soundly. It usually takes until the next day to see an improvement but with your miracle hands it always appears.
Thanks again;Carole, Bruce and especially Tucker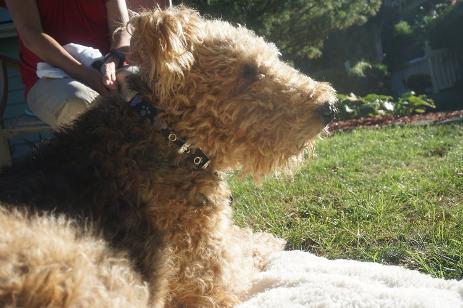 LET'S GET YOUR DOG BACK TO LIVING THE GOOD LIFE!
CALL OR EMAIL DEBI TODAY!
905 937-9731
famelosd@hotmail.com