Everyone has a story.
Mine evolves around people and animals, specifically dogs.
What I do, I do on purpose.
I create positive change.
Why do I do what I do?
To help your dog.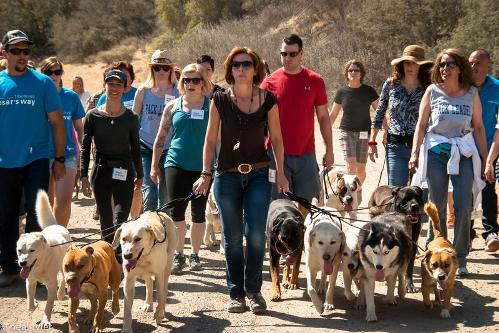 Everything begins with an intention.
It becomes a reality when you never change the goal.
I believe in the above statement. If you skipped over it, go back and read it. (please)
For me, intention has been the driving force that lead me to where I am today...a successful woman doing what I am meant to do, HELP.
What I mean by help is to create a better life for others. Not just for animals as you might think, but for people too.
To do what I do in my clinic ~ Dog Bowen Therapy ~ it takes a great deal of knowledge, skill and business know how.
...but none of that is sustainable without a driving force, a passion to create change.
Just like you, animals are a big part of my world. So big in fact that I can't remember a day in my life where I was not in tune, and in awe with the connection between me and the animal world.
Fast forwarding from my youth and looking at my last 10 years, you'll see that this connection has grown into a full-time gig.
A life-long realized passion to HELP.
I have taken all of the connections I've made with the animal world through out my life: volunteer positions,countless workshops, certified courses, part time jobs, full time jobs, reading book after book after book. And of course living always with animals in my home...and through it all I held on to the same intention...I AM HERE TO HELP ANIMALS, HELP PEOPLE.
NOW THERE IN ONE THING TO KNOW ABOUT INTENTION, IT DOESNT HAVE TO BE A LAYED OUT DETAILED PLAN. IN FACT THAT ONLY LEADS TO DISAPPOINTMENT AND CONFUSION. A SUPER CLEAR OUTLINE OF WHAT YOU WANT IS ALL IT TAKES. LIFE FILLS IN THE DETAILS.
...and Life has filled in the details for me perfectly!
Along with spending the last decade dedicating my days to children with special needs at the local school board ( which has taught me not only patience and perseverance, but deep compassion as well) I have also pursued my career as an Animal Bowen Therapy Practitioner. All while raising my children with my husband, Lou.
Not easy to juggle such a full load, but oh so worth it.
I am a determined kinda gal, and honestly I scare myself sometimes with some of the things I challenge myself to do. Like taking on two careers and then deciding that hey, the world needs to learn this, and taking on a teaching gig too!
Visit www.canineboweninstitute.com if you would like to become an Animal Bowen Therapy Practitioner.
One such challenge that I set for myself was to walk alongside Cesar Millan at his Dog Psychology Centre. Now at the time, I had no money for this far away California trip, nor did I have the luxury to take time off. On top of that my mother was ill and my sister and I were full-time caregivers. But some how, some way, life filled in the details and off I went.

This is a long and crazy story, but let me give you one last wild detail...Cesar "happened" to walk into my daughters place of work out in British Columbia, she spoke of me and my role as an Animal Bowen Therapy Practitioner and the next thing you know Cesar is calling my house to talk to me! Can you friggin" believe it?
Cesar as I now clearly know and only thought I knew before, is a highly instinctual, incredibly dedicated man.
His compassion, determination and natural way of completing each and every intention is nothing less than a pure example of how to BE.
I lived this way (in many ways) before I met Cesar. Being in his presence made it that much more important for me to strive to be the best I can be in order to positively change the lives of Dog's.
What I do, I do on purpose.
I create positive change.
Why do I do what I do?
To help your dog.